BHARATHI VIDYA BHAVAN
Bharathi Vidya Bhavan, the epitome of learning, the icon of Erode, is located near Thindal Murugan temple, Erode. While the city of Erode was filled with fragrance of turmeric, BVB was constituted in 1978 in order to quench the people's thirst of knowledge.
Know More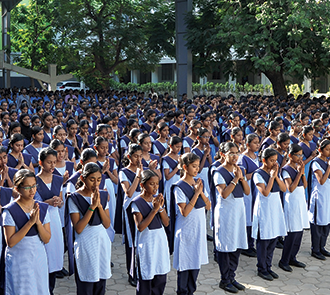 Bharathi Vidya Bhavan, a gateway of excellence in intellectual, personal and social transformation focuses on forward thinking, quality education, creativity with commitment and inculcating moral values in all spheres of life. The target of teaching learning process is designed to accomplish aspiration of every learner.
Mission
Our mission is to empower the learners by honing the academic, artistic and social skills of the students, making them leaders of tomorrow.
SCHOOL TIMING
Kinder Garden – Std LKG & UKG – 9 am – 3.15 pm
Primary – I Std to V Std – 9 am – 3.15 pm
Middle Level – VI Std to VIII Std – 8 am – 3.30 pm
High School – IX Std & X Std- 8 am – 4.05 pm
Higher Secondary – XI Std & XII Std – 8 am – 4.05 pm